Complete Packaging Guide for Apparel & Textile Industry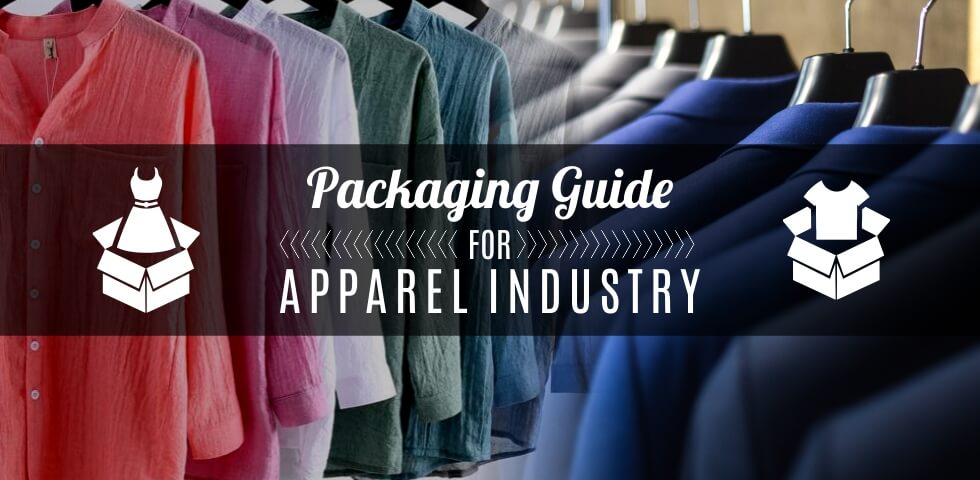 Did you know that about 48% of online shoppers search for apparel category when shopping online? The fashion industry has a pivotal role to play in the eCommerce business. Take a look closely and you will realise that fashion and electronics are the two major players in the e-commerce market today.
The dearth of shopping malls and branded goods in small places and the incursion of technology and internet has lead to the increase in the rise of the percentage of people resorting to online shopping. The penetration of digital media in even the smallest regions in the country has given the online sellers or e-commerce business unprecedented opportunities to not just attract local and International investors but to grow multifold in the online retail business.
Product Wise Sales in Indian e-Commerce Industry: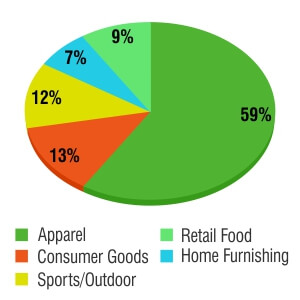 Fashion and Apparel e-Commerce Industry Statistics:
According to Indiaretailing, fashion and jewelry retailing, and food industry contribute to 49% of the overall spend. In fact, the footwear and apparel sales almost doubled within a year in 2015.
According to a study paper by Assocham-Forrester, Indian e-commerce will see a staggering annual growth of 51% in revenue by 2020.
According to statistics by Google in 2015, the next 5 years will see a 4 times growth in apparel sales.
By 2020, of the $100 billion revenue that India is expected to generate form online retail, $35 billion will com from e-commerce.
The search results on Google indicate that every third query is related to the fashion industry and this is increasing at almost 65% annually.
With the current trend, it is estimated that fashion sales on the Internet will grow to 35% by 2020 from the current market share.
e-Commerce Sale Trends In Fashion e-Commerce: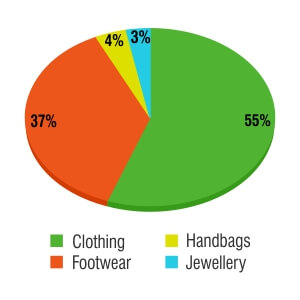 If you provide increased access to your customers and spread the roots to rural segments, with easy access facilities, sales are bound to rise. Prompt delivery to rural segments would also help in driving up your numbers.
Role of Packaging in Fashion Industry:
Fashion is never a need. It's a want. You market, advertise and PACKAGE keeping that in mind at all times. When you want to stoke someone's desire to buy a product, it needs to be appealing. The appeal for fashion products is never-ending, so how do you make someone want to shop the same product from you instead of the other vendor? Customer service. You're on the right track but as an e-commerce seller, how exactly do you do that?
You can obviously give your customer the seamless browsing and shopping experience. Yet again, if you are selling in a marketplace, then every other vendor is offering it. What's your touch point? The product? What before that? It's the package. It's the first thing your customer will see when the product arrives at their doorstep. And now imagine, if this packaging carries your logo or some signature design, why wouldn't it remain on the minds of your customer.

Points to consider before you finalise or improvise your packaging? Does your packaging solve these issues?
Packaging Design:
Is your packaging creating the feel good factor?
Kya ache din aaye hai? Do you think your product packaging puts a smile on your customers' face?
Is your packaging exactly like every other fashion e-commerce vendor?
Are you still using plain plastic bags or brown boxes to send your products? Have you considered adding some colour or happiness through basic designing that won't burn a hole in your pocket?
Are you even promoting your brand through your packaging?
Or, is your customer thinking that big giants like Amazon, Flipkart, Voonik or Snapdeal are the actual sellers? It takes a lot of effort to build brand identity and if there is an easy route to it besides providing good quality products, it is the product packaging.
How often have your customers returned the package due to damaged goods or tampered packaging?
Or how likely are they to do so? Have you tested the packaging? Are you sure that even if the shipping partner does not handle the product properly, it will reach safely to the customer especially in severe weather conditions? Never forget this point if you want to save costs or return and reshipping.
Also Read: 5 Simple Ways Small Businesses Can Save More Money
Is the packaging easy to carry and lightweight?
Now most customers order products at their office addresses. If you consider this factor and design your packaging, you are sure to earn brownie points there because your packaging is providing a little comfort or ease to your customer. Why do you think many stores ask the helpers to stack up the customer's shopping bags in their cars or why does valet parking exist?
Does your packaging seem negligent?
Do you pack a needle in a big carton before sending it? Most customers think of wastage of material and money when they see small products arrive in large packs. Socially responsible citizens also consider it as adding to environmental waste and might not appreciate your brand further.
Is your packaging easy to open?
Does your customer have to fidget and find a toolbox to open the packaging? Or is it a protective technique of packaging yet not cumbersome to open? Because customers are looking out for the latter experience.
Tip:
If you have a return policy which requires the customer to personally ship the products back to you, provide an extra poly mailer bag with the details inserted in the POD jacket to save them the trouble of finding a suitable bag for shipping. Not only will they remember this added service, but will surely spread the word of mouth.
Packaging Feasibility:
Is your packaging material occupying too much space? Do you really need that kind of material or can it be replaced?
The fast moving products in the fashion business demand larger storage spaces. Add to it bulky packaging material and you will have to incur additional costs to just store these supplies.
Is your packaging an investment or a cost?
Packaging, by and large is an investment. It promotes the brand, pleases the customer, reduces or prevents the number of returns due to damage to save costs.
But if you have chosen wrong packaging material, you will need more warehouse storage space, bulky packaging will be costlier, shipping costs will rise and unnecessary use of plastic is not environment-friendly either. Check for not just product feasibility but packaging comfort too.
Protective Packaging:
What kind of protection does your product need?
Protection against tear
Protection against weather or moisture
Safety from losing form especially in case of stiff apparel like coats or blazers or footwear

Are you following the trends in packaging innovations blindly? Those "extra safe" and heavy-duty packaging materials don't guarantee safety. They may not always be cost-effective either. Research or get in touch with a good packaging company to find packaging materials that suit your requirement. There are traditional packaging supplies that are not just economical but provide utmost safety too.
For most apparel, poly mailer bags or courier bags work the best. They are tear resistant and tamper-proof.
For footwear or other items that need hard case packaging, corrugated boxes are the best resort.
Packaging and Shipping Apparel:
Wrap your product in paper bag, tissue or transparent plastic bag before you put it in the main box or package.
You can use self-seal bags or bubble bags and jiffy envelopes for this too. A Ziploc bag is also a good option.
If you can avoid boxes, do so. Courier bags that are moisture and tear resistant are your best bet.
Seal the bag properly. You can opt for branded or customized packaging bags to make an impression.
Double packing ensures that your product remains intact even if a sharp object pierces through the outer packaging during transit.
Slip in your label with customers address and a personalised message in the POD jacket of your courier bag.
Ship the item with a reliable vendor.
Additional Tips to WOO Your Customers:
Spray some fabric perfume in the box to keep the musky smell away from the box and fabric. The delightful fragrance will be an added surprise for your customers.
Add a personal or handwritten thank you note with the product to elevate the shopping experience.
Choose colourful packaging that suits your brand and creates an impact so that you can earn some brownie points over your competitors.
Stick to a constant shipping fee. Derive an average shipping cost and maintain it. Customers usually get turned off to see high shipping costs on some products and low costs on others.
Keep the packaging simple. If the product is easy to pack, it will be shipped in time which is utmost important for customer satisfaction.
A right packaging partner can make your job hassle-free. PackingSupply.in has a plethora of clients from the fashion industry and have helped clients with their bespoke packaging requirements. We are a one-stop shop for packaging materials at the most competitive prices. Contact us to learn more about fashion packaging.