Need of the Hour – Tamper Evident Packaging
Packaging your valuables have many different purposes like easy storage, ease of handling, marketing and branding, safety and security, tamper proof transit and much more. People sending their valuables are often worried until the recipient receives it in the same condition as when packed. To rest your worry lines and calm down your frown. We would like to acknowledge you with Tamper evident packaging – your perfect packaging solution.
Let's dig in a little more and see what makes it so perfect.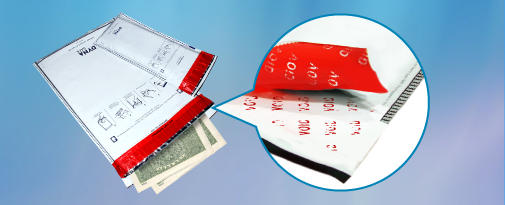 Tamper evident packaging includes envelopes and bags that are manufactured in high strength opaque grey or clear film in density ranging from 60 and 100 microns. With extremely strong tear resistant double shrink side welds. There are a number of security features that make these envelopes and bags ideal for tamper evidence. Features like:
#1 – Tamper Evident Closure
The closure adhesive tape when tried to open leaves a mark on the surface with "VOID" written, which gives a clear indication to the recipient if the envelope was open or tried to open before it was received.
#2 – Security Edges
The edges of the envelopes have security print which when cut to open and again closed by some means will be evident due to the difference in the printed edges.
#3 – Serial Numbered
The envelopes and bags are serially numbered for record keeping and tracking.
Sequential barcodes.
Tear-off receipts with matching barcodes and numbers.
You must be wondering on to where and how are features helpful and which are the industries who can use tamper-evident packaging. Let us give you a wide range of applications and industries that use evidence packaging materials:
Confidential Mailing
Evidence collection and storage
Cash collection and shipping
Aviation security
Examinations envelopes
Passport envelopes
Credit/Debit card envelopes
Batch sample preservation
If you are looking for tamper-proof envelopes, you should definitely get it from Dynacorp. The most trusted supplier and with affordable prices. They have customers like Flipkart, Amazon, Voonik and many more industries trusted brands. The top-secret envelopes are an in-line, VOID tape closure for tamper evidence, manufactured to withstand abusive handling or extreme temperatures. You can order them even with custom printing on the envelopes.
Visit www.packingsupply.in for more details and orders.