Packing List Envelopes Makes Shipments Self-Explanatory
Stepping forward towards all new perfect packaging product – Packing List Envelope that streamlines communication between the seller and customer. In the time of specification, it is important to convey data related to the product, handling procedures and invoices are fundamentally vital within custom delivery methods. Therefore, this calls for the need of a means that is outstanding for transmitting certain product specifics and it is called Packing List Envelopes or Packing Slips or Document Enclosed.
Plastic (polyethene) Packing List Envelope is secondary packaging material that makes shipments self-explanatory. The shipping labels can be enclosed in this unmatched tool that protects paperwork from dust, dirt and moisture and is expansive enough to ship multiple documents within at a time. It permits to keep all business data private and safe with the opaque invoice enclosed or even the transparent clear list envelopes which work efficiently. Similarly, packing list envelopes are easy to open and are strong adhesive rear side that easily sticks to plastic courier bags, corrugated boxes, cartons or any other form of a container this helps important information to reach its destination.
There is a wide range of collection introduced for different business needs. Four options are provided which are available in variable sizes, designs and range namely:
Opaque Packing List Envelope
Side loading Packing List Envelope
Reclosable Packing List Envelopes
Single Use Packing List Envelope
Based on the purpose these products have multiple usability with options.
Depending Upon The Travel Distance: Orders received are from different places which take different time to reach the customer. For short or medium distance travel, it is advisable to use Single Use packing List Envelopes or Re-closable Packing List Envelope which have 2-3 gumming liners hence makes it economical for use. Many of times, orders received are overseas or more distance thus there is more check point where the shipments might be checked multiple times.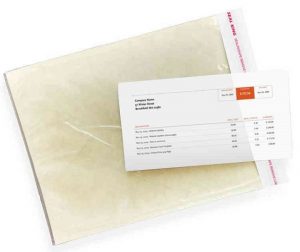 In such cases, it is advised to use Side Loading Packing List Envelopes. These envelopes have full gumming on the rear side, which sticks on the surface easily and can resist rough transits. Due to multiple check point, the closure is reclosable that is once the shipping documents are inserted can be taken out and checked by the inspector and re-sealed inside the same. Thus, single use packing list envelopes are ideal for long distance shipments.
Depending On The Transparency: As mentioned in the beginning, Packing List Envelopes makes shipments self-explanatory, which means shipping documents are visible to all. For this purpose, clear or transparent packing list envelopes can be used. We provide 2 types are clear/transparent packing list envelopes.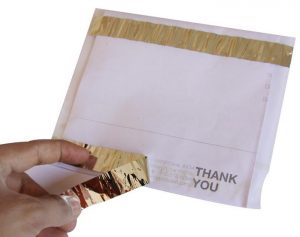 Single Use Packing List Envelopes
Reclosable packing List Envelopes
There are time, when the shipments need not be self-explanatory to all but to selected ones only. That means, some shipments carry valuables, whose shipping/mailing documents need not be visible to all, thus we introduced Opaque Packing List Envelopes. Which hides the shipping details to all naked eyes. Only authorized people who are related to the shipment would be able to remove the shipping/mailing documents. It comes with single strip back adhesive strip thus makes it very economical.
Select your own packing list envelopes and protect, secure and enjoy safe delivery of shipment using – packing list envelope, available online at cost effective rates.