Top Four Benefits of Making Jewellery Packaging Customized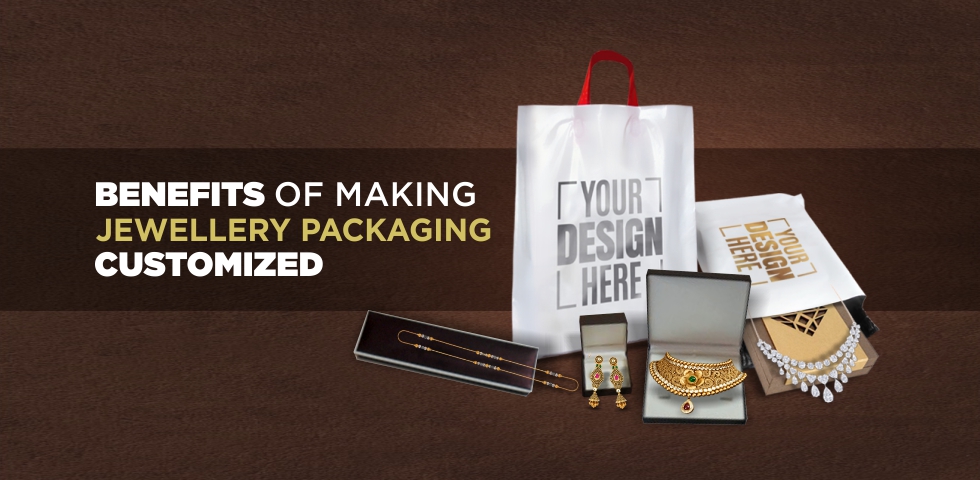 There are certain product lines wherein the packaging is as important as the product itself. Jewelry is one such product which comes under the aegis of the premium product category. This implies that customers are bound to expect a distinct 'unboxing' experience. Luxury items give wings to the consumer's imagination and he/she pictures an exquisitely wrapped product which is a treat to the eyes.
Other than this, there are many other factors too which characterize jewelry packaging. Let us get a sneak peek into some of these pointers which can help you package jewelry items in such a fashion so that it leads your customers to a unique shopping experience.
Establishing your Brand
Creating a brand perception is crucial if you want your business to thrive and succeed.Brand perception refers to what the consumer thinks of your brand in terms of feelings that your brand evoke and the overall experience while using the end product. Packaging is instrumental in imprinting a unique image of your brand in the consumer's mind. When it comes to jewellery, the packaging is even more vital as it is a luxury product.
Low cost of customized packaging
Though packaging plays a vital role in jewelry branding, it should also be kept in mind that one should not go overboard. Costs incurred on packaging are 'overhead costs' which will be covered in either the cost of jewelry or the shipment cost. Hence, even if it lends an exquisite look and elevates the 'unwrapping' experience, still consumers would not want to be overcharged owing to the packaging of the product.
Secure Packaging
Security is pivotal when it comes to packaging jewellery. Though consumers want each product to be shipped to them safely in the case of jewellery, due to the value of the product as well as the fragility of it, secure packaging becomes the prime concern. Secure packaging would help prevent pilferage and any kind of damage while being shipped. For this reason, packaging items like bubble wrap are used extensively in jewelry packaging. Also, tamper proof packaging is an effective option, wherein if someone makes an attempt to open the package it would not open easily and it will become evident that the package has been tampered with.
Going that Extra Mile to Ensure Customer Loyalty
Along with robust and eye- catching packaging, there are certain other aspects of packaging which can help remarkably in facilitating customer loyalty. Once the consumer unwraps the package, he will be delighted, if he finds a small 'thank you' note inside. Such customized gestures go a long way in creating brand loyalty and ensure repeat sales. Other than this, you can also place your brochure or business card so that they can always come back to you.Incentives like discount codes or vouchers also send across a message that you value your customers. All this will give visibility to your brand and again will encourage repeat sales.
Our Products
We at packingsupply.in provide a one stop solution to all your packaging requirements with a vast range of packaging options to choose from. We offer a gamut of packaging alternatives in jewelry packaging. Our products are specially designed to store and transfer valuable and fragile items.
Courier Bags with Bubble Wrap: These bubble wrapped courier bags are best suited to ship fragile and semi- fragile valuables. They are light in weight, moisture resistant with perfect cushioning quality to facilitate the safe delivery of your products.
Bubble Envelopes: Bubble envelopes come with the protection of permanent peel and seal closure on the outside and a bubble lining inside. This is a complete protective packaging which is also available in various shapes and sizes to fit your specific packaging need.
Self Seal Bubble Bags: These have multi-layer polyethylene bubble film for the superior protection of your valuable items.
Double Bubble Envelopes: These come with double lining inside the envelope making it all the more sturdy and secure for the packaging of fragile and valuable items.
Screen Printed Bubble Courier Bags and Envelopes: These screen printed bubble courier bags ( with POD jacket) and envelopes are customized packaging options which can help create a brand image and they come in various colours. Bubble provide the requisite cushioning to your fragile products and it serves the dual purpose of 'customized look' and safety.
Tamper Evident Security Envelopes & Woven Lined Tamper Evident Envelopes :
We at packingsupply.in realizes the importance of safe and hassle free packaging when it comes to shipping valuable items. Keeping this in mind, we came up with specialized packaging products. Tamper evident security envelopes are designed in such a way that if someone tries to open your package, it will leave an irreversible mark 'VOID' which will distinctly signify that someone has made an attempt at tampering your product. To further add on to the security dimension, we have another packaging product which is called Woven lined tamper Evident Envelope. It is also tamper evident but in addition, it has a woven inner lining and is tear proof.
Thus, Jewellery Packaging has come a long way and while partnering with a packaging partner, you definitely need to understand the pros and cons of jewelry packaging and then give your customers a fine, safe and unique packaging experience which is bound to capture their hearts.