Exhibition Bags – Your Walking Advertisements at any Trade Show or Event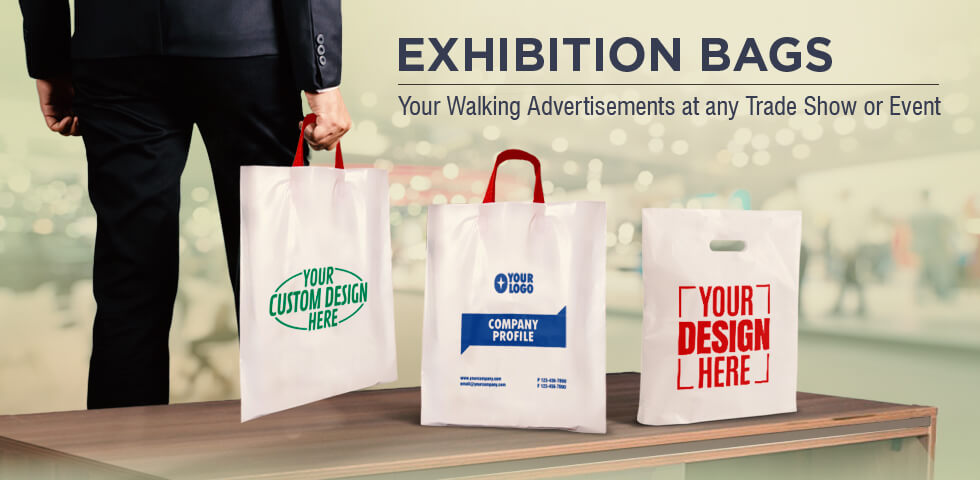 There are countless businesses exhibiting their products and services at the event. Custom exhibition bags are one of the most practical promotional products. They are a flexible marketing tool that can be applied for various industries and businesses. A well-designed exhibition bag can draw more customers to your stalls too. So if you are participating in any such event, getting custom printed exhibition carry bags or trade show carry bags must be on your checklist.
Why Do You Need Customised Exhibition Bags?
Consumer exhibitions, trade shows are platforms to improve the visibility of your business and brand and generate as many leads as possible. Not everyone who walks into your stall or stand is a consumer but they are surely a prospect customer. Moreover, every visitor can be turned into a walking billboard that goes about advertising your exhibition bags and business wherever they carry it.
The Feel-good Factor:
Just like paperback books win over ebooks and actual shopping reins over online, the effect created by promotional material that one can touch is higher than that of hoardings or advertisements. A folder, brochures, memoirs, or even exhibition bags have a higher potential for success since they create multi-sensory impressions. This is why there is a lot of emphasis on customised merchandise instead of print media advertisements or hoardings or audio and video ads.
Grabbing Attention:
Interested visitors and customers at the exhibition should notice the advertisement on the printed exhibition bag. Ideally, it should make them curious and lead them to the stand. The name and exhibition stand should therefore be clearly communicated.

Provide Customisation:
It is like icing on the cake. A customised bag looks welcoming and speaks to the customer on your behalf. Incorporate your company theme and colors from your company design in the bag design and create an individualized effect. Here's how customised bags help your business.
Also Read: How Good Packaging Can Make your Event a Success
How To Choose The Right Exhibition Bags?
Do you want to be a stand that gets forgotten after the trade show or a one that is contacted by prospect consumers? Then you need to choose your promotional exhibition bags carefully. Here are some points you may consider:
Size:
How big should a standard trade show or exhibition bag be? Definitely bigger than A4 size because that is the standard size of your brochures or leaflets or any other promotional material you want to share with the visitors at your stall. Now your consumers collect these standard size bags from every stall they visit. How comfortable is it to carry so many bags? What if you customized a large size bag that can easily fit all the other small bags. With just this simple trick, you can ace your promotion and branding strategy. Now, this consumer will be carrying your brand throughout the exhibition or show.
Quality: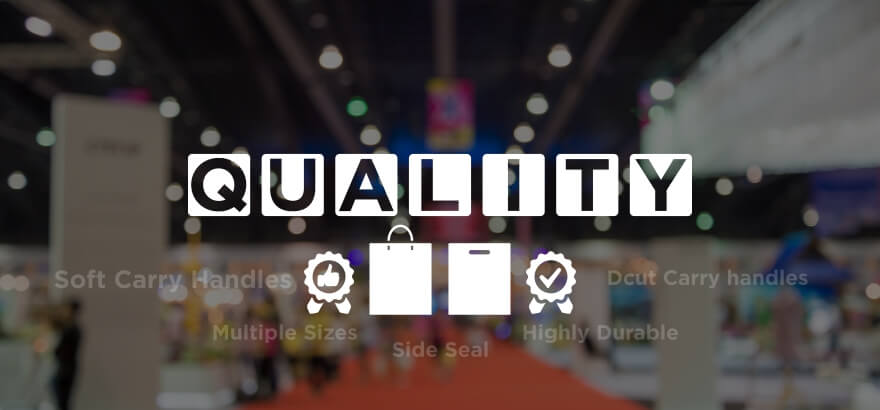 The most frequent reason for using an exhibition bag is its striking advertising effect. This is why the print application is extremely important. After all, the bag should be noticed throughout the exhibition, brands or logos communicated and a high recognition effect achieved. However, even if it should be more subtle and the bag is to be used as a high-quality gift for good customers, you still need the option of discreet printing or embroidery.
Comfort Level:
Using a bag with loop handles vis-a-vis D cut carry bags is more feasible as the former is easy to carry and looks classy too. At just fraction of the difference in cost, you can make your bags look more impressive and add the utility factor so that they are used for long. Opting for an oversized bag, as mentioned in the point before, will make it comfortable for your visitors.
Affordability:
Promotional and exhibition bags offer the maximum value for money in the personalized marketing and branding segment. Paper, cloth or jute bags, thick back folders etc will only increase your expenses. If your aim is to improve brand visibility and get improved brand recall, stylish and good quality plastic carry bags can also solve the purpose at a much lesser cost.

Multiple Use:
The bag doesn't just hold your documents. Custom exhibition bags that are designed well and exhibit good quality are used long after the event by most consumers. So basically your trade show bag becomes a long-running physical advertisement. These custom bags if made in surplus can be used at conferences and other promotional events too.
Exclusivity:
Choose bright and bold colours and incorporate your logo in it so that the visitors and prospective consumers can notice your company perfectly amongst the hard competition that exists at such events.
So don't think twice. Put your name in the hands of the crowd and create a positive impression and outlook of your business. We at PackingSupply.in aim to address your needs for custom printed carry bags, plastic envelopes, folders, courier bags and much more. Place your order here or call us on +91-7857-078-570 for any further queries. Follow us on Twitter, Facebook, LinkedIn, Google+ and Instagram.