Which Type of Tamper Evident Bags & Security Envelopes are Suitable for Carrying Confidential Documents?
People sending their valuables are often worried until the recipient receives it in the same condition as when packed. Confidential documents must always be mailed using tamper evident security bags. When choosing the right type of security poly bags & envelopes for carrying confidential documents, you must consider the following features: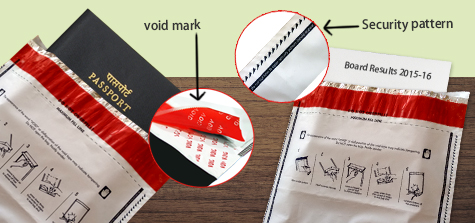 Made From 75 Micron LDPE films
Transparent POD jacket on the back side of the bag
Opaque material of the bag
Tamper evident closure
Security edges that are printed
Serial Number for Record Keeping/Storing
Sequential Barcoding
Peel & Seal adhesive liner
Water/moisture Resistant
Durable
High Seam Strength
Easy to write on with a permanent marker
Recyclable & Easy to Use
Available in wide range of sizes
Not opened easily
PackingSupply.in has designed high-quality tamper proof security bags & envelopes for courier companies and postal transport services. These tamper evident security pouches are favored for their economical and confidential shipping of various products. The security poly bags & envelopes are an in-line, VOID tape closure for tamper evidence, manufactured to withstand abusive handling or extreme temperatures. You can order them even with custom printing on. We provide tamper-proof packaging bag solutions for many applications in retail, financial, e-commerce, education, medical, health-care and pharmaceutical.
Learn more at Quora.com