Retail Carry Bags (Summary) – Branding Your Business Through Plastic Carrier Bags
When it comes to packaging, what is the one packaging product that comes to your mind instantly? Well, I am sure, the image of a carry bag must have certainly crossed your mind. Plastic carry bags of varied shapes and sizes have been in vogue in the packaging industry, since forever. They are one of the most commonly and widely used packaging products.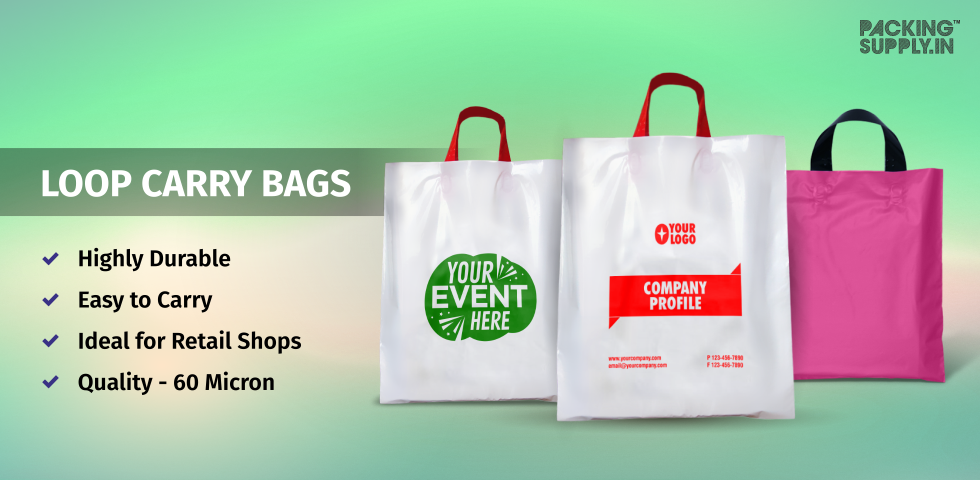 Buy Now Colored Carry Bags!
Size (W x H) Inches
Micron
100 – 500 Pcs
500 – 1000 Pcs
1000 & 2000
2000 & Above
10 X 12
60

₹

3.95

₹

3.64

₹

3.56

₹

3.50
14 X 16
60

₹

6.42

₹

5.93

₹

5.78

₹

5.68
Note: Price Per Piece is excluding of GST.
Suggested Application or Industries that Use White Carry Bags:
These White Carry Bags are best suited for the retail industry so much so that they are alternately called white plastic retail bags. At Packing Supply these white carry bags are screen printed and can be customized into various colours. In addition, company logo and details can be added to give a unique brand image. These plastic carrier bags are predominantly used for :
Trade Shows & Fairs
Events & Exhibition
Seminars and Conferences
Promotion & Advertisements
These event categories can benefit significantly from using customized or non-customized carrier bags to give that edge to the attendees thereby imprinting the brand identity on their minds.
Also Read: Creating Brand Awareness Using Custom Packaging
Features and Specifications of White Carry Bags:
Some important features and specifications of White Carry bags, as well as customized White Carry Bags and premium custom screen printed poly shopping bags, are enlisted below:-
Flexible carry handles that are attached internally to ensure a comfortable grip while carrying the same.
Robust and Moisture/Water Resistant.
Ample storage capacity with high seam strength that facilitates insertion of heavy products.
Lightweight and easy to write on with a ballpoint pen.
Available in a wide range of sizes.
Made from 60 Micron LDPE Films.
Optional Features:
These white color carrier bags can be customized into a number of colours.
Both Side Print Option with attractive colour.
Company logo and details can be printed on the plastic bags.
Two new premium customized colour options, namely 'gold' and 'silver'.
For further details, visit our website PackingSupply.in, which is a one-stop destination for all your packaging needs.