Launch of Flipkart Yellow Security Envelopes
After successful launch of Flipkart packaging materials on Packinsupply.in, we noticed a huge amount of traffic (Flipkart Sellers) interested in our Flipkart Branded packaging products initially comprised of:
Festive Pack Flipkart Security Envelope
Flipkart Security Envelopes
Bubble Lined Flipkart Festive Bags
Flipkart Branded BOPP Packing Tapes
Flipkart Corrugated Boxes
With the time passing by we were flooded with inquiries of Flipkart branded corrugated boxes, which were then launched earlier in the month of December 2015. With the increasing requirements and positive customer feedback, we came up with an amazing deal of flat 20% discount on Flipkart branded envelopes.
The extreme amount of response we received, helped our authorities to start the manufacture of the all new Flipkart Security Envelopes with new artwork, design and sizes, strictly as per Flipkart guidelines and standards.
Thus on 29th December 2015, we launched "Flipkart Security Envelope – New Design" on PackingSupply.in!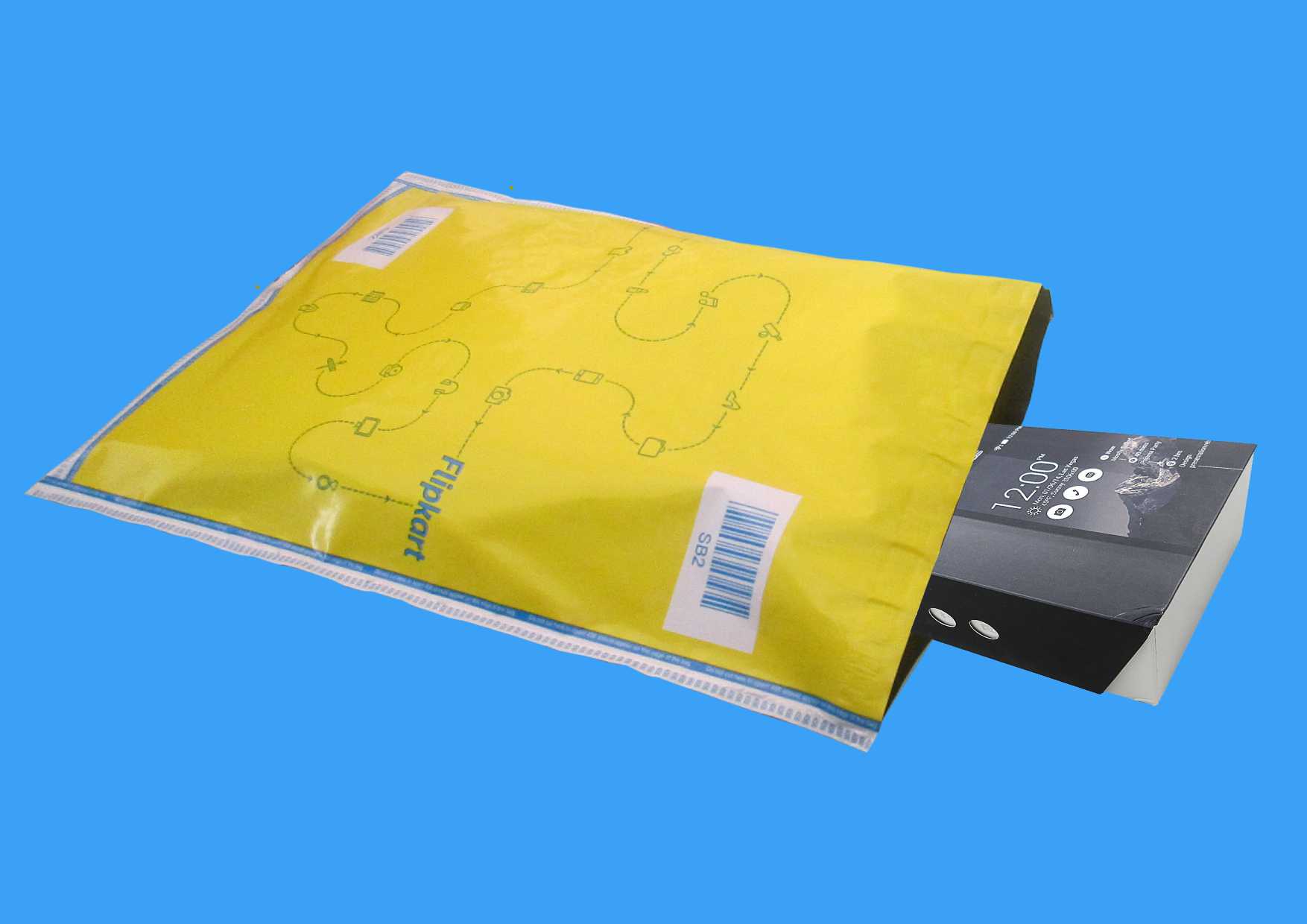 The new Flipkart Branded Security Envelope are designed and manufactured strictly as per Flipkart standards and guidelines. Flipkart sellers can now avail newly designed envelopes available in variable sizes and features like:
Multiple Sizes for selection: We provide you multiple sizes to select from as per your requirement. There are mainly 6 sizes provided to select from. Choose the perfect size for your product now.
Side seal security pattern: The edges of the envelopes have security print which when cut to open and again closed by some means will be evident due to the difference in the printed edges.
Sequential Bar Codes for tracking: The envelopes and bags are serially numbered for record keeping and tracking.
Lip to lip closure: As per the Flipkart standards, there are no more flaps on the envelopes. We provide lip to lip closure for the same.
POD jacket: We provide you an option to insert the invoice of the order inside the jacket placed on the back side of the envelope.
With three decades of experience in packaging field, we at Dynaflex are committed to deliver best products at economical prices, so looking into the past inquiries and demand, we at Packing Supply are proud to introduce our new offering the "Flipkart Security Envelopes – New design" designed strictly as per Flipkart standards exclusively for Flipkart sellers. So what you waiting for when you getting the best quality at reasonable prices delivered straight to your home, you can't ask for more than this, just go ahead and order today from PackingSupply.in.