Polynet Paper Envelopes (Summary) – Multipurpose Courier Options For All Businesses
Good packaging is a prerequisite for smooth delivery of products which in turn leads to 'customer delight'. With the internet making its presence felt in our lives, frequency of shipping packaged products has increased remarkably. Despite novel things transpiring in the packaging industry, courier still remains the prime way to ship packaged products.
For this, various packaging products are being used. Polynet Paper Envelope is the most commonly used packaged product in this segment.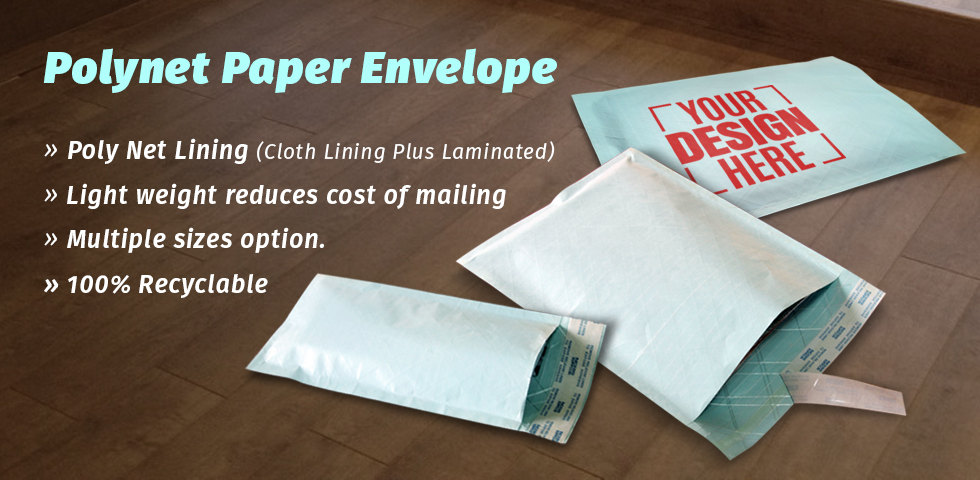 Suggested Applications or Industries for Polynet Paper Envelopes:
We at Packingsupply.in offer plain Polynet Paper Envelopes as well as Customized Polynet Paper Envelopes. These Cloth-lined paper envelopes are screen printed and can also be customized into various colours. In addition, company logo and details can be added to give a unique brand image. These are primarily used for courier purpose. The various applications of these packaging products are:
Hence, It is evident that the usage of these custom polynet paper envelopes & mailers is far and wide, in varied industries.
Also Read: Creating Brand Awareness Using Custom Packaging
Features and Specifications of Polynet Paper Envelopes:
Some important features and specifications of Polynet Paper Envelopes are enlisted below:
80 GSM Green Paper
Poly Net Lining (Cloth Lining plus laminated)
Multiple size options
Heat Sealed on the Sides
Hot melt peel and seal flap.
Light weight which reduces mailing cost
Accommodate ample weight
Ensures safety and easy to handle
100% recyclable
Cost effective
Optional Features:
These polynet paper registration envelopes & pouches can be customized into a number of colours.
One side Print Option with attractive colour.
Company logo and details can be printed on the bags.
So, what are you waiting for, expand your horizons and experience unique packaging experience at Packingsupply.in. For further details, visit our website packingsupply.in , which is a one stop destination for all your packaging needs.