Plastic D Cut Retail Carry Bags & Shopping Bags Summary
Packaging has evolved considerably over the last decade or so but there are certain packaging products that are still indispensable owing to the sheer utility and simplicity that they entail. D Cut Carry Bag is one such packaging product.
Suggested Applications or Industries that Use D- Cut Carry Bags:
D cut carry bag is the perfect packaging partner for retail stores, exhibition, events, advertisements, trade shows, seminars and so on. At PackingSupply.in, these plastic shopping bags are available in either plain white format or can be customized into various colours. In addition, company logo/event details can be put to lend a unique brand image. These white or coloured screen printed D- Cut Carry Bags are extensively used for :
Retail Packaging
Pharmaceutical Packaging
Industrial Packaging
Stationary Packaging
Education Packaging
E-Commerce Packaging
Textile or Apparel Packaging
Trade Shows & Trade Fairs
Events & Exhibition
Seminars and Conference
Advertisements
Thus, it is apparent that D- Cut Carry Bags are used in almost all the prime domains and so the demand for these never plummet.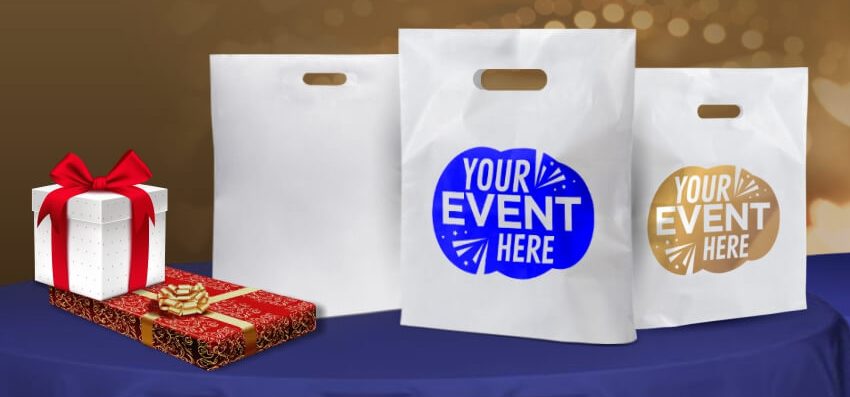 Features and Specifications of D- Cut Carry Bags:
Some important features and specifications of D- Cut carrier bags are enlisted below:
Flexible carry handle with D- cut at the top to facilitate handling and ensuring a comfortable grip.
Robust and Moisture/Water Resistant.
Available in the plain white format as well.
Ample storage capacity with high seam strength that facilitates insertion of heavy products.
Lightweight and easy to write on with a ballpoint pen.
Available in a wide range of sizes.
Made from 50 Micron LDPE Films.
Also Read: Tamper Proof Plastic Courier & Mailing Bags – Product Summary
Optional Features:
This D-cut retail carry bags can be customized into a number of colours.
Two side Print Option with an attractive colour.
Thank You Pre-printed poly d cut merchandise bag is available.
Company logo and details can be printed on the bags.
Two new premium customized colour options, namely 'gold' and 'silver'.
Standard Sizes & Price Per Piece of D Cut Carry Bags:
| | | | | |
| --- | --- | --- | --- | --- |
| Size (W x H) Inches | Micron | White D Cut Shopping Bags | Customized D Cut Retail Bags – Single Side | Customized D Cut Retail Bags – Both Side |
| 10 X 12 | 60 | 1.55 RS | 2.40 RS | 2.82 RS |
| 14 X 16 | 60 | 2.79 RS | 3.63 RS | 4.06 RS |
For further details, visit our website PackingSupply.in, which is a one-stop destination for all your packaging needs.